April 23, 2012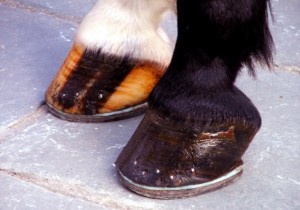 Horses have played a key role in various facets of human history. Having been used in situations and scenarios as varied as world wars, travel and exploration, agriculture and industrialization, horses have been a part of many important developments in the history of the human race as humans have relied upon them for servitude for centuries. While horses are one of the strongest and most resilient species of animal life on earth, they still needed a bit of human ingenuity in order to be able to handle the immense amount of physical labor they were often used for; it became apparent very early on that a horse would have more longevity if it's hooves could be protected from wearing down prematurely – thus the creation of the horse shoe, born of necessity.
Some of the earliest known civilizations on earth had developed methods of preserving a horse's hoof. Through various archaeological findings over the years, historians have been able to ascertain some rather crude methodology for hoof protection dating back to first century A.D. – animal hides and plants were woven together to form a type of crude boot that could be tied around a horse's lower leg and protect their hooves in the process. It is believed these 'horse boots' were employed only when the terrain dictated the need for them and they were not permanently affixed. The Romans used a saddle shoe that was quite similar to the sandals worn by most people of the era, right down to the crisscrossing straps used to hold them in place.
Although the exact date of when metal shoes were employed is unknown, it is fairly certain that the practice began in the sixth century. Metal shoes – usually iron – were initially affixed to the hooves of horses to preserve their hooves from damage and premature wear from the great distances they walked while in the service of humans; they were also used to prevent slipping and erosion as horses were often pulling their load or carrying their rider across soft, damp ground. By the 12th century iron was a precious metal in short supply and was used to mint coins as well as to make horse shoes, for this reason it was permissible to pay taxes using horses when necessary.
The first farriers – horse shoe makers – appeared in Europe during the early 13th century, likely brought to Europe by William the Conqueror. Not long after, horse shoes became a large production item and an industry unto themselves. It was also during this time that the main use of horse shoes switched from being used primarily by royalty or cavalry to mainly being used by farmers and other trades. Pre-made horse shoes that were relatively easy to apply were now the norm.
Horse shoe makers became organized in the early 14th century. They became publicly and commonly known as 'farriers', a term first used to describe horse shoe makers in a trade manual titled "No foot, No horse", that was published in 1751. Horse shoeing techniques and materials continued to evolve and eventually led to a technique in which the shoes were heated before application, or "hot shoeing" as it was known.
While horses are primarily a hobby and no longer a relied upon method of transportation or labor in most parts of the world, farriers still exist and horse shoeing is still a usable trade. There are schools that offer farrier courses and it is possible to become a professional in the field. Techniques continue to be improved and materials experimented with – for example, lightweight aluminum shoes were discovered to vastly improve the speed of racehorses; dense rubber was found to be more useful for the more sensitive hooves of trail horses, etc.
Posted by admin @ 8:18 pm
Filed under: farrier work/horse shoeing, horse articles, horse health
Tags: farrier work, hoof care, horse care, horse ownership, horse shoeing —