December 31, 2010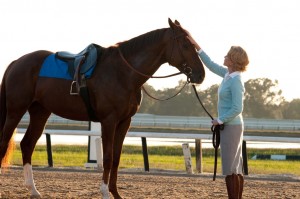 We live in a pretty rural part of the country and the "new" movies at the local movie theatre are sometimes not quite new by the time we get to see them.  But, regardless of that, when the newspaper advertised "Secretariat" at the theatre, we knew we had to go.
My personal review of the movie was very favorable, primarily because I took my four year old daughter with me to see it.  The movie was really refreshing from the standpoint that it was just a nice movie about a horse.  It had some light drama – but you knew the horse wins in the end anyways, so it didn't stress you too much!  Like every movie nowadays seems to have, it had some politics mixed in – but it didn't take sides or get preachy.  All in all, the message was believe in yourself and those you care about – this horse was really fast!
Horses often provide an escape from cares and worries and just an opportunity to "be" and "enjoy", this movie provided that same thing, which to me was the most fitting aspect of any movie – especially one about a horse.
Posted by admin @ 10:46 am
Filed under: horse movies, horse videos
Tags: horse movies, horse racing, secretariat —

May 5, 2010
This video shows horses trapped in floodwaters near Nashville, Tennessee this week. Rescuers in boats were able to herd the horses, but it is very interesting to observe the horses' behaviors in deep water and what instincts they have when dealing with this type of emergency. Here's the video:
There are a few things that can be drawn from this video, and that is the horses did not seem in a hurry to get out of the floodwaters, and the black horse being led in shallow water actually seemed afraid to walk to dry ground. Watching this sort of thing reminds me of how important it is to have horses that are used to being caught and handled so that rescuers are able to help them. Can you imagine trying to catch a frantic or shy horse in these waters? It could result in people falling in the water, the horse getting hurt in underwater rubbish or wire, and who knows what else.
I've always heard you're supposed to have a plan for fire, flood, and other emergencies. Keeping a five gallon bucket with a lid on it that holds halters, ropes, first aid kit, and maybe something to blindfold a horse with is a great idea.
I'm glad these horses made it to safety, and hope things dry out for the Tennessee folks soon!
Posted by admin @ 11:27 am
Filed under: Uncategorized, horse videos
Tags: horse care, horse videos —