March 25, 2010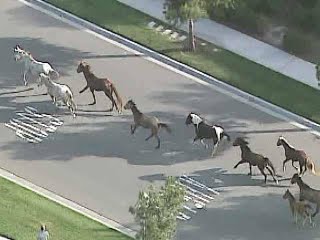 It's not often you hear of a cowboy being the hero these days. But that was the case on Wednesday, March 24th, as a 56-year-old ranch hand from Otay Mesa, California helped catch a band of renegade horses that were running through city streets in Chula Vista.
Reports say a band of about a dozen horses stampeded through the suburban neighborhood, followed by news broadcaster helicopters, Humane Society workers, and police.
No people or animals were hurt, thanks to Abel Canales, a cowboy who arrived on the scene with his horse and a lariat. "He was a real cowboy," a witness is quoted as saying. Canales roped the lead horse and safely guided the herd to some corrals. There is no news on how the horses escaped in the first place, or who they belong to, but I'm sure that's all been settled by now.
It's just good to know that when you really need a cowboy around, there's one to be found. Without an experienced horseman with a skill in roping, this story could have been a sad one.
Posted by admin @ 10:06 am
Filed under: horse news, runaway horses