February 4, 2010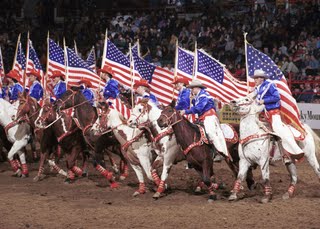 Well last week got away from me, but as promised, I wanted to tell you a little more about the National Western Stock Show's rodeo. There is a kids riding club from Colorado that appears every year at the Stock Show rodeo. On their website, they describe themselves as a "mounted precision drill organization" and the word "precision" doesn't do enough to describe the amazing maneuvers these teenagers and their horses perform!
It amazes me every time I see the show at how good the horses and riders are. You can join the drill team as early as age nine and ride until you are 19, and it boggles my mind to think of the amount of work and dedication these kids put into their horses and drills. While there are horses running full steam in all directions, you easily forget that it's young kids doing the riding – which is a testimony to the trainers, riders and of course horses.
Their opening act was all in the dark, and the first rider came flying into the arena with glow-in-the-dark bridle, tack, saddle, chaps, and beautiful American flag. Then the rest of the group joined in, and the arena was filled with flying flashes of red, white, and blue lights, swirling and crossing paths. It was really breath-taking, especially when you realize the speeds these horses are moving at, and knowing just when to race, when to turn, when to slow down, and stand still.
If you ever have a chance to check out the Westernaires, don't hesitate, you won't find very many shows like it – whether you are a horse lover or not! A real tribute to the precision and discipline it takes to be a part of this group was when one of the riders fell off of their horse, the entire troupe immediately came to a halt, it was very impressive (and scary) to think about how dangerous of a situation that could have been, but the discipline of horses and riders saved a girl from getting badly hurt – and of course, she got right back on and continued in the drills!
One more blog coming on the National Western Stock Show Rodeo and it's amazing horses..
Posted by admin @ 10:04 am
Filed under: National Western Stock Show, The Westernaires, rodeo horses


January 27, 2010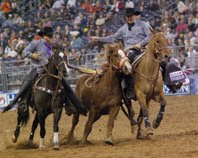 I just returned from a trip to the National Western Stock Show in Denver, CO. The highlight of the trip once again was the rodeo we attended Saturday night.
I don't know if you're a rodeo fan or not, if you are, you'll know what I'm talking about, if you aren't, but you love horses, then you owe it to yourself to attend a good, all-around rodeo. Not just a bulls-n-broncs event that has gotten so popular, but one where roping, steer wrestling and barrel racing are also featured. To be honest, I usually miss most of the action while at the rodeo because I am more focused on what the horses are doing, whether they were ridden by the contestants or the "pick-up" men, these are some of the most amazing horses you'll ever see. Whether it's assisting a steer wrestler by crowding the running calf just right, or a horse that "turns and burns" for it's barrel racing rider, these are horses many of us can only dream of having.
It is no exaggeration to say that at the rodeo we saw, one bareback rider owes his life to the good horses the pick-up men were riding. His hand was stuck and he couldn't dismount so as he was being drug around the arena, the horses the pick-up riders had were the only chance to save this man. These horses (and of course the amazing cowboys on those horses), quickly cut off this bronc that wanted to run, and the riders and rodeo clowns were able to get the cowboy loose. If it weren't for a couple good horse and rider teams, who knows what may have happened. As the scene unfolded, you could almost see the horses knowing their job and wanting to help. I've always had the opinion that probably the best and most accurate compliment you can give a horse is that it knows it's job, these rodeo horses are the perfect definition of that.
More on these amazing horses coming soon…
Posted by admin @ 3:50 pm
Filed under: National Western Stock Show, rodeo horses