May 24, 2012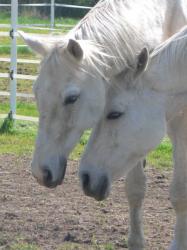 It sounds like a cliché, but the World Organization for Animal Health (WOAH) has defined animal welfare in much the same language as the World Health Organization has defined basic human rights. According to the WOAH, the welfare of an animal is good if it is "healthy, comfortable, well nourished, safe, able to express innate behaviour, and not suffering from unpleasant states such as pain, fear or distress." Food, shelter, safety, and the freedom to be themselves; isn't that what every human strives for in life?
Considering the history and importance of equine in society, there has been relatively little research conducted on horse behaviour and training. Yet what little has been done shows a strong evidence that horses are intelligent, learning animals that respond very positively to primary positive reinforcement. Unfortunately, just because horses are animals they are usually subjected to negative reinforcement that causes pain, fear or distress, subsequently compromising the overall welfare of the animal.
Back in the last century (1989), the Journal of Animal Science published a report called "A Review of Learning Behaviour in Horses and its Application in Horse Training". The research presented three main areas of findings: experiences early in a horse's training and life will affect later learning; horses have long-term memory; long and intense training sessions decrease effective learning in horses. Short training sessions that include positive reinforcement, using food, garner far longer and more successful results than a single long training session.
So, positive reinforcement is the way to successful training, but that doesn't mean punishment is out of the equation – it just needs to be done correctly. Punishment carried out incorrectly when training horses damages the animal, the lesson, and the relationship with the handler. There are two key points to effective punishment: punish within three seconds of the behaviour and do not escalate. The idea is to make the horse aware of the issue, but not instil fear, avoidance or a defensive response.
If we were to replace all the instances of 'equine' or 'horse' with 'person' or 'people', the above three paragraphs would still be relevant. Horses are intelligent, intuitive beings that can and will respond better to positive reinforcement than any other form of training – just like us. Just as we wouldn't slap a child for crying, it is not appropriate to slap a horse for whinnying. Horses are as sensitive as humans are, and deserve the same humane training methods.
Posted by admin @ 11:20 am
Filed under: horse behavior, horse training
Tags: horse advice, horse behavior, horse care, horse ownership, horse training —