June 1, 2011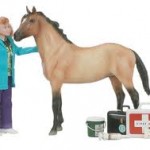 The Oregon Parks and Recreation Department advises horse owners to be aware of a recent outbreak in the Northwest of Equine Herpes Virus and to assess the health of their own horses before transporting horses or attending shows and rodeos where the disease may be spread. There are no travel restrictions to-date.
Full story
EHV-1 is a common strain of a DNA virus that occurs in horse populations worldwide, a respiratory disease that can cause a pregnant mare to lose her foal, according to the American Association of Equine Practitioners.
Prevention is the key to stopping this disease from spreading, so observe these tips to help protect your own horses:
• Ask your local veterinarian to see if there are reported cases in your area, or in the areas you plan to travel to.
• Keep your horses away from other horses, if possible.
• Don't share tack, barn supplies, or brushes with other people or use on horses other than your own.
• Keep everything as clean as possible. If you frequently handle other horses for training or farrier work, wash your hands and clothing before working with your own horses.
• If you have attended a show or had your horse in contact with other horses, keep your horse away from your other horses for 10 days after returning back home, and take the horse's temperature twice daily.
• If you're planning to travel out of state with horses, call ahead and ask a veterinarian in that state if there are any reported cases in your destination area.
Also, horse owners in the Midwest are being advised to be on the lookout for any symptoms of the West Nile Virus. Recent heavy rains and flooding in this region (see map) are creating large bodies of standing water that are ideal breeding grounds for mosquitoes that potentially carry the disease.
Common symptoms of the disease in horses include (but are not limited to) loss of appetite, weakness/paralysis of hind limbs, muzzle twitching, impaired vision, loss of coordination, head pressing, aimless wandering, convulsions, inability to swallow, hyper-excitability and coma. Any signs of this disease need to be reported to a licensed veterinarian immediately.
Although vaccination does not prevent horses from contracting the WNV it is a key component in allowing them to fully recover if infected. Primary vaccination of horses involves administration of 2 doses of vaccine 3 to 6 weeks apart. In endemic areas, boosters are required semi-annually or more frequently (every 4 months), depending on risk. Annual revaccination in low-risk areas is best completed in the spring, prior to the onset of peak insect vector season.
By practicing effective mosquito control in your own backyard you can help decrease the potential for spreading the WNV. Regular cleaning of watering troughs, is essential for prevention. Rain barrels and other standing pools of water can be treated with nontoxic, commercially available larvacide dunks that kill mosquito larvae. These can be found at most garden centers.
For more information about West Nile Virus go to this link.
Posted by admin @ 11:38 am
Filed under: horse health, horse illnesses
Tags: EHV virus, horse vaccinations, veterinarian advice, West Nile Virus —