June 20, 2011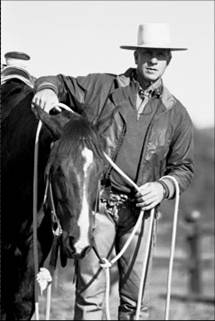 People and horses alike listen when Buck Brannaman has something to say. This former trick rope performer turned cowboy philosopher was the inspiration behind the film and novel, "The Horse Whisperer" and is now the star of first-time-director Cindy Meehl's documentary, "Buck."
The story of Buck is one of a man who transcends the abuse of his childhood and learns grace and patience through his love of horses. His role-models, Ray Hunt and Tom Dorrance, were modern pioneers in the philosophy and methods of natural horsemanship, a discipline that Mr. Brennaman soon adopted and began spreading the word about.
For almost three decades Mr. Brennaman has run clinics all over the country teaching working cowboys and other horse devotees that riding a horse like a dance – it is a combination of wooing, leading and mutual respect. "When you get to the point where a horse accepts you, trusts you, it can change you as a person and change the way you relate to other people, not just horses."
The film, "Buck" was a made to inspire people to make changes to the way they deal with both horses and life's challenges. It teaches people to communicate using leadership and sensitivity rather than fear and intimidation.
Posted by admin @ 8:17 pm
Filed under: horse movies, horse quotes, horse training
Tags: horse movies, horse trainers, horse training, horse videos —