November 27, 2010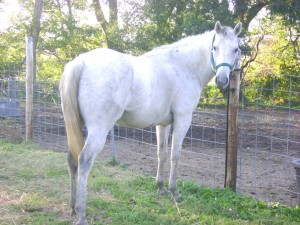 Although Thanksgiving – and the Holiday season in general, tends to make us occasionally reflect on how good we've got it.  Most of us are so blessed that we truly can't even comprehend all the good things that happen to us every day.  For those of us who count horses among our blessings, we really have it good.  So, today I'd like to give thanks for our old mare Cricket.  We bought her from a couple in Missouri who were professional rodeo competitors – her, a barrel racer and him, a bull rider.  I don't think they had reached the level where they were making millions of dollars, in fact, I think they were just scraping by, but I digress…
They had purchased Cricket ("Crick-ee" as I call her, "Crooked" as my "speech impaired" mother calls her!) for her young daughter to learn to run barrels on, however, Cricket didn't have much speed and she was lazy, she also knew how to bluff this very young girl and one day, when Cricket decided to go stand by the trailer in the shade instead of run barrels, they decided to sell her.  My wife and I bought her because I needed a "beginner" horse and Cricket has done everything to fill the bill.  I have learned to be a much more confident rider because of her good and bad traits. 
Cricket doesn't like to work and when she does have to work, she doesn't like to work very hard.  She tries to go back to the barn if you take her out by herself, and if we're working cattle, she only wants to work next to another horse, not go out and chase a stray cow by herself.  However, she doesn't buck or run away, she doesn't rear and if you are firm with her in what needs to be done, she obliges.  From her I've learned how a horse can bluff and that if you let them get away with it, it is many times harder to deal with it the next time, but I learned it from a safe old girl who didn't have any intent to harm herself or me in the process.  My riding has become better and more confident because of her.
As someone who had a pretty healthy fear the first several times I rode, I'm thankful that Cricket has made me want to ride other horses – not that I don't like riding her, but for quite awhile, I felt she was the only horse safe enough for me to ride, but now I feel like I can ride another horse besides her and live to tell the story!  The last time we visited my in-laws and we all were choosing horses to ride, I offered to ride a horse that was somewhat green and I knew it was a horse I could ride and I had no reservations about it being just a little green.  I owe that newfound confidence to Cricket and her tolerance of me!  Now I'm excited to have my kids develop the same confidence through riding her for the next few years.
Posted by admin @ 11:37 am
Filed under: horse quotes


November 16, 2010
Subtitle:  Any horse lover could have told you this…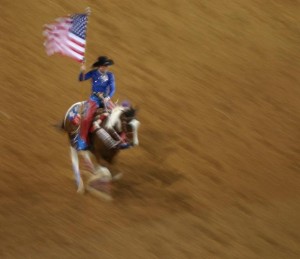 Although I'm a day late with my post, in light of Veteran's Day, I thought I'd post a link to an article I read.  Click here to see the article, which refers to horses being used as therapy to combat veterans suffering from post traumatic stress disorder.
Thankfully, most of us never deal with the type of mental trauma that some of the brave defenders of our country have to learn to live with.  But about any of us could have told you what a fantastic release from stress and pressure the horse can provide.  Horses continue to amaze me with their ability to perform as therapy animals.
Posted by admin @ 7:50 pm
Filed under: horse therapy
Tags: horse therapy —