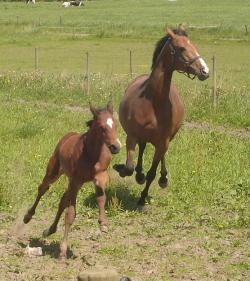 The weather has been odd this year, a bit of warm weather in February then a whole lot more cold right into the end of April. Nevertheless, spring has finally sprung, the flowers are blooming, and knee-high rubber boots are a constant companion. As the snow melts and creates mud fields in some areas of the country, other regions get their mud via deluges of spring rains. Either way, mud on a horse ranch is not a good thing. It's inevitable, but definitely not good. Pastures become unusable for horses, grasses can't be fertilized for better growth, which in turn means a gradual degradation of the pasture quality. On top of that, horses can develop serious injuries or diseases from being in a muddy environment.
Let's first tackle the issue of pasture health and safety. On one of those early days when the sweet scent of spring is in the air, take a walk around all fence lines. Inspect every post for rot or shifting, as long months of snow and moisture can cause issues. Keeping the grassy pastures grassy is as important as keeping the fence posts up, which is why many horse owners choose to fertilize their pastures. Yet it is vital to wait for the ground to dry out before fertilizing, otherwise the effectiveness just drains away with the water into the natural environment. Also, never allow your horses onto a pasture immediately after fertilization. Keep the horses away for as long as the fertilizer manufacturer's instructions specify.
The horses may be itching to get out into the pasture but if it is still muddy don't give in! At the very least, the horse hooves will tear up the grass and make a real mess of the pasture. When the ground dries out, those ruts could cause injuries to horses later on. Have you ever stepped in a mud puddle and had your boot suctioned off your foot? It is humorous, and a little messy, but for a horse, it can be painful and damaging to the top the hoof. Horses that are permitted to graze a muddy pasture can also develop the dreaded mud fever, cracked hooves, and Equine Dermatophilosis.
No one can prevent spring rains or run-off from melting snow, but horse owners can work around the mud problem. In watering and shelter areas spread a healthy layer of wood chips or crushed gravel. Rain will drain off the surface and help prevent mud, even in the face of traffic from heavy horse hooves. Check gutters around all stables and outbuildings to ensure water drains far away from the horses. Horses and spring mud do not go well together, but good planning can mean they never meet!